Did you buy an item but it's the wrong size? Is the color not what you thought it would be? Did you buy it because it looked amazing but now you don't need it anymore? Don't worry! Returning a product is easy and safe with us!
---

Within 30 days from receiving your order,
please, send an e-mail to info@hobbyperline.com info@hobbyperline.comindicating your name, a phone number where we can reach you and your order number.
Our customer service will contact you by email to explain to you how you can return the unwanted products.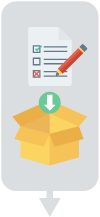 Fill in the Return Form you received by email,
print it out and put it in the box that you are sending back.
Place the product into a box or a padded envelope.
The product must be returned still intact and in its original package.intact and inside its original bag.
We advise you to choose a secure shipping method (courier) so that you can keep track of the package until it arrives at our shop.

Please ship all returns to:
Naif srl
via Leonardo da Vinci, 54/A
00015 Monterotondo (RM) - Italy



Our customer service will contact you
and you can choose how to be refunded for the returned products. The refund will be carried out within 14 days from the moment the returned products arrive at our shop.